If you wonder what's the best free Adobe Acrobat Pro alternative for editing PDF files, there is no simple answer. Adobe created and still owns most of the technologies associated with the PDF file format. While you won't find any free options with the full feature set of Adobe Acrobat Pro there are free PDF editors that just may have the tools you need to edit your PDF files. In some cases you might have to use more than one of these free editors to get the desired result.
PDFescape
PDFEscape comes in two flavors. There is free online editor which can be used with the
most popular browsers on any operating system. Desktop version is only available for Windows and includes a trial of premium edition. We'll focus on their free online version, which includes features like being able to create new PDF files and edit existing PDF files. However, when editing existing PDF files you can only add your own text or images. Existing text and images can't be changed.
Once you open a PDF document, you'll be presented with different tools for editing.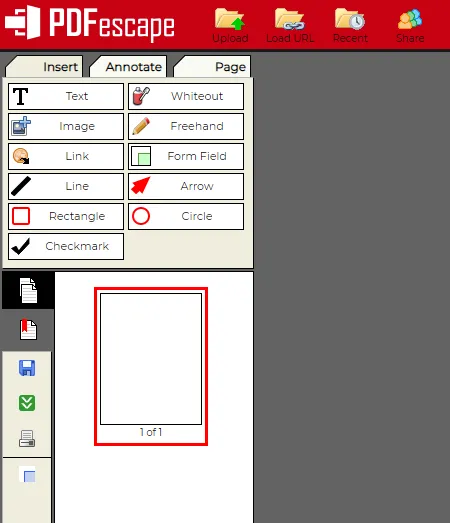 There are also tools to annotate documents, like the ability to add sticky notes and a highlighting tool. On the page tab there are options to crop, rotate and other functions.
At any time you can save your document to your PC.
Smallpdf
Smallpdf is an editor with minimal features and can be used for free online on any operating system. There is also a premium desktop version for Windows and Mac. Free online version offers a limited tool set to quickly add text, images or shapes on any PDF. It does not let you edit existing text in existing documents or to create a brand new PDF file.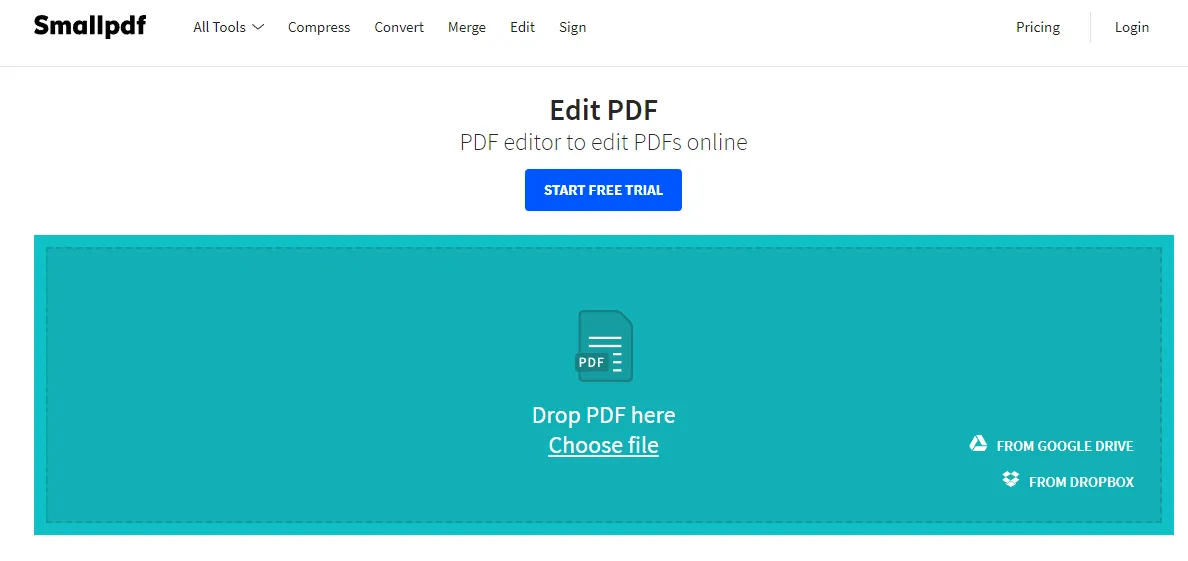 You have the choice to drop a file from your PC or from your Google Drive or Dropbox account, or you can just click on 'Choose file' to locate the PDF on your system.
Once you open existing PDF, you'll see options to add text, images, shapes or to draw.
When you're done making changes, you can download the document to your system, Google Drive or Dropbox, or you can create a link with which you can share it with others. You can also convert the document to a Microsoft Word or Excel format.

With SmallPDF there is a limit of two PDF edits within an hour. You could wait an hour to get two more free edits or upgrade to their pro plan to get unlimited access.
PDF-XChange Editor
Unlike the previous PDF editors mentioned, PDF-XChange editor is for those of you looking for a way to edit existing text in a PDF document. There's no online version and it's only available for computers running Windows OS.

While most of the included tools are free, small number of advanced tools (if used without a license) will place a watermark on your document. During the installation process you will be able to choose a free or a pro version.
For example, editing text can be done without a licence, but editing any other shapes (lines, images, etc.) is not free. When you first try it, you'll get a warning.
Great free tools that do not require a license include splitting PDFs, attaching comments, and OCR which recognize text in a scanned document even if it's only a printout and not the original file.
When you first open PDF exchange editor you'll notice a ribbon at the top that is similar to Microsoft Office products.
ApowerPDF
ApowerPDF is yet another PDF editor with two choices, online and desktop. We'll ignore the desktop edition since it's only a trial of their premium product which will watermark your PDFs. Free online editor can be used with most of the popular browsers and is quite powerful with many useful features. You can add your own text and graphics along with being able to edit existing text.
When you first try to launch online editor it will require that you download and install their launcher app. After its installed it will launch their online editor in a separate window.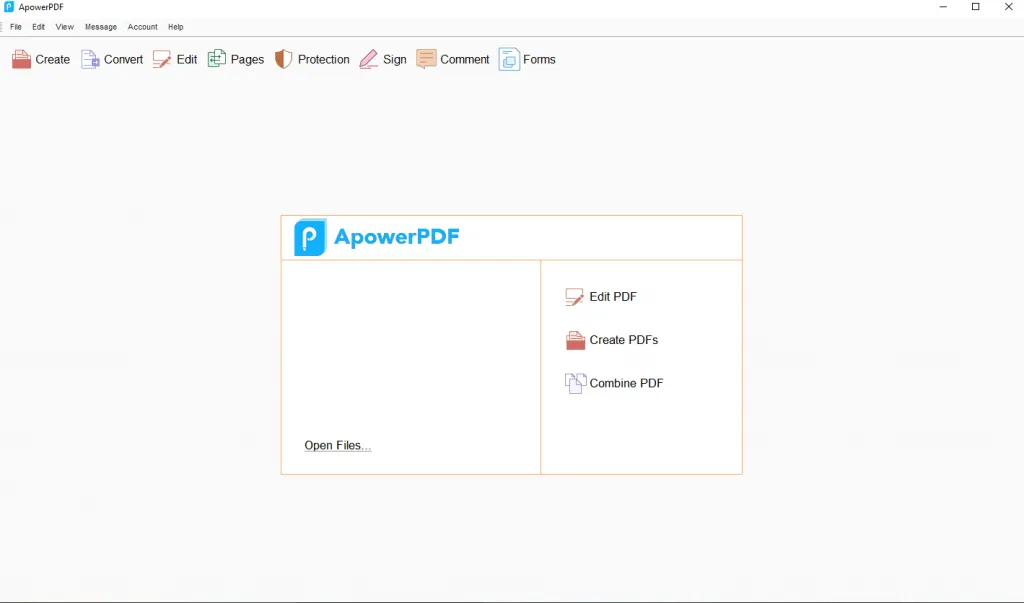 You can edit, create and combine PDFs. You can convert your PDF to another file type, add and edit text and images, split and crop, encrypt your file with a password, place a signature on your document, annotate it, etc.
Inkscape
Inkscape is a powerful program which includes many functions for editing PDFs. This free and open source software is only available for download, there is no online edition. It offers a ton of features including tools to edit images, edit existing text and you can change the appearance of graphics within your PDF.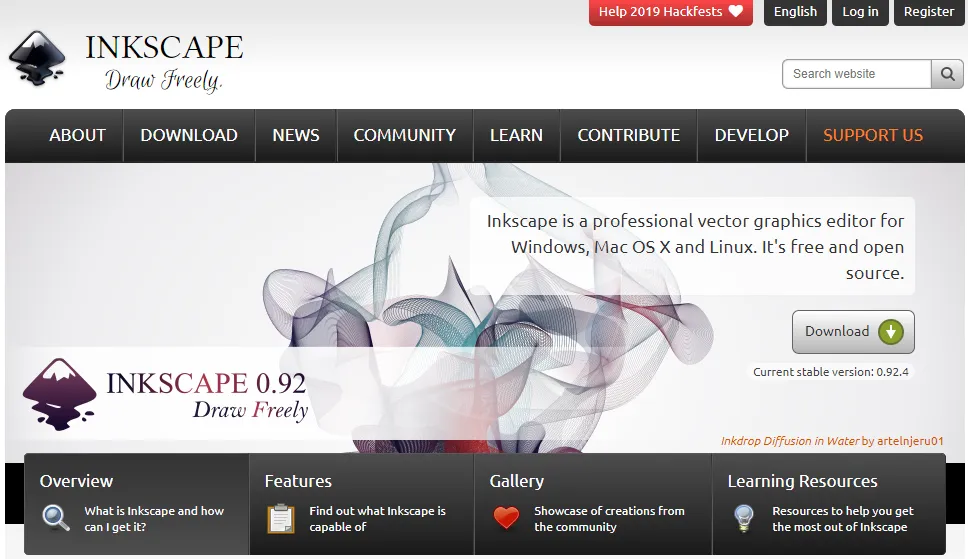 The learning curve is high and the number of tools available for many people will be overwhelming. If you've used Inkscape before or similar software you should have no trouble. Otherwise you can check out the numerous tutorials online.
Inkscape is available for the major operating systems including Windows, Linux and Mac.
JotForm PDF Editor
Worthy addition to the list: JotForm PDF Editor is an online PDF editor which allows users to generate the PDF from scratch by using simple "drag and drop" to create elements in a document. It has other useful features like collecting data using form submission and automated document creation using that data. It provides a large number templates to start with and then customize the colors and fonts to meet your needs.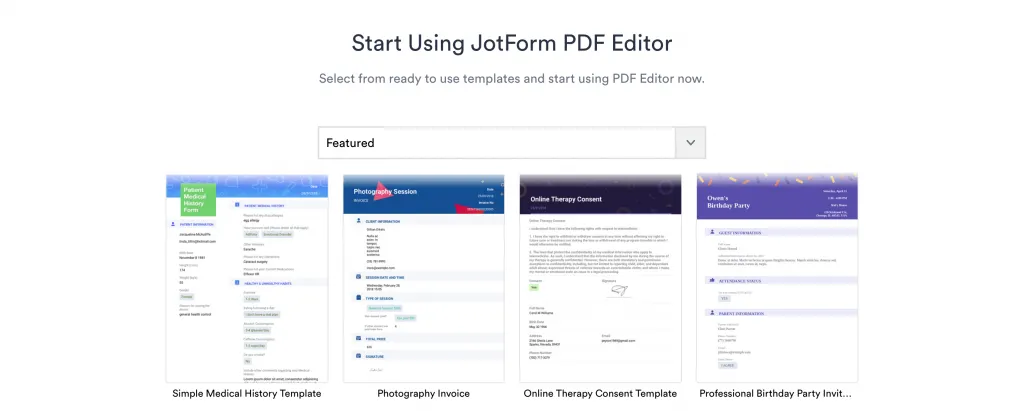 You can also use electronic signatures, annotation, password protection, and create fillable PDF forms, all for free at the time of writing this article.